⇐   BACK TO IMPACT INVESTMENT SUMMIT 2022 SPEAKERS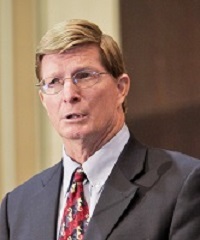 Paul Holthus
Founding President & CEO
Paul Holthus founded the World Ocean Council (WOC) – the Global Blue Economy Business and Investment Organization – the international business leadership alliance on ocean sustainable development. The WOC brings together investment, shipping, fisheries, aquaculture, tourism, oil/gas, offshore renewables, mining, submarine cables, ports, and other sectors for global business community leadership, collaboration and action on the future of the ocean.
Paul created the WOC Ocean Investment Platform – the global structure/process linking investors, ocean industries and innovators, including the "Ocean Funds Roundtable" and "Global Blue Economy Innovation Initiatives Network". He started the annual WOC Sustainable Ocean Summit (SOS), the premier high-level global ocean business and investment event on "Corporate Ocean Responsibility". In 2019, with the theme of "Investing in Ocean Futures", the SOS was the most comprehensive global ocean finance event organized to date.
Paul is a globally recognized leader in ocean and coastal conversation, environment and sustainable development. He has held senior positions with UN Environment and other international organizations. He has worked in 30+ countries, with companies, communities, industry associations, UN agencies, NGOs, and governments on practical ocean sustainability solutions.
Paul has advanced degrees in marine resources and international business, was a Fulbright scholar in Australia and is an East-West Center alum.
Paul is a regular speaker at international business, investment and intergovernmental events, was invited to be on the UN Secretary General's ocean advisory panel for Rio+20 and is the only global ocean industry organization representative invited to address the UN General Assembly.