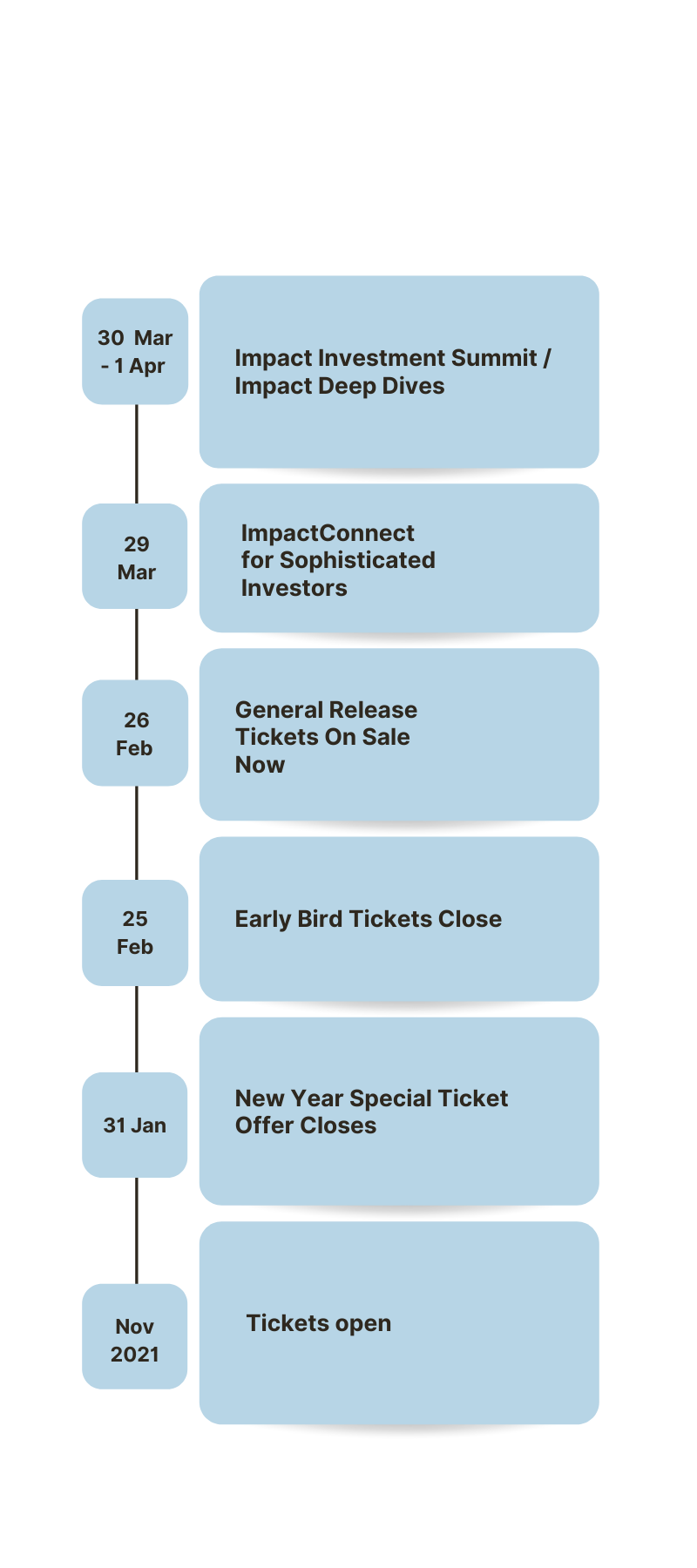 What is the Impact Investment Summit
The Impact Investment Summit is four day festival of impact providing attendees a adynamic mix of learning and inspiration, exploration of impact investment opportunities, discussion and debate – all delivered by the world's leading experts.
Over 15 international luminaries bringing global perspectives and insights
Anchored by the over 60 regionally based speakers and presenters who will deliver compelling stories around market growth, deals, the rise of impact across institutions, shareholder activism and the power to ignite a new economy
8 main stage plenary sessions
5 deep dive masterclasses from regeneration to impact and outcomes measurement 
12 breakout sessions streamed to maximise content specific to private investors, institutional investors and philanthropy 
A TED-style powerhouse hour showcasing impact ideas worth spreading
Networking opportunities with over 400 Summiteers, the cream of the impact ecosystem
Who Should Attend?
If you're interested in impact investing and shifting capital for good, care about sustainable futures for people and the planet, wanting to find a measurable way to make a difference in solving critical challenges, the Impact Investment Summit is for you.
This includes:
Investors
Seeking investors
Institution/Corporate
Foundation
CEO's
Intermediary
Government
Family Office
NFP
Social Enterprise
Education
What will I get out of the Summit?
The Summit will provide opportunities for education, networking, and connection with a network of experts and game-changers.
The growing inequities around the globe, amplified by the pandemic, and the role of capital in closing the gap. To be pursued at this, the sixth seminal Summit gathering of international and Australian private and public sector leaders, institutional and private investors, family trusts and foundations, government, academia and the media, financial advisers, NGOs and social enterprises. All intent on making a difference through innovation, through values-centred investment, through conversations, collaboration and connection. Sharing insights and stories on what matters most in our world, on our key social and environmental challenges and opportunities crying out for our collective wisdom, courage and action.
How many days does it go for?
The summit is a Four Day festival of Impact. You can join for all four days or book a two or three-day pass. You also have the flexibility to join an Impact Deep Dive, or join Impact Connect as a qualified investor.
Impact Connect – Tuesday 29 March 2022
Impact Investment Summit – Wednesday 30 and Thursday 31 March 2022
Impact Deep Dives – Friday 1 April 2022
How do I get there?
Is there an EventSafe plan?
What happens if the event can't go ahead due to restrictions?
In an instance where the event can not proceed due to Government regulations, you will be contacted to arrange rescheduling or refunds of tickets.
How do I book?
You can book your tickets here 
Who are the speakers?
You can see the list of our expert speakers here 
How can I stay up to date with news?
Stay upto date with the latest news by signing up to our news here 
Who are the partners of this event?
You can see a list of our event partners here 
Who do I contact for more information?
Please reach out to us with any questions via the contact form here
How is the ticket booking fee used?
Impact Investment Summit is committed to making a difference in the world around us and has partnered with Humanitix as our ticketing platform.
In partnership with their network of carefully vetted children's charities, 100% of the profits from your ticket booking fees fund brighter futures for disadvantaged kids around the world.